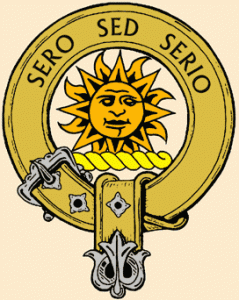 The origin of the name "Kerr" is most generally believed to have come from the Norse "Kjarr," meaning "wet ground" or "swamp."
The Kerrs settled along the border between England and Scotland sometime in the12th Century.
In 1515, Sir Andrew Kerr of Cessford was appointed Warden of the Middle March.  A "warden" is akin to a sheriff, although the powers of a warden also included tax collector, military commander and often judge and jury.
By the 15th century, the Kerrs had become one of the most powerful families along the Borders of Scotland.
One of the most common questions asked when the Kerr Family Association is represented at a Scottish event is "how do you pronounce the name "Kerr."  That depends on where you live.  If you live in the Southeastern quarter of the United States, it's pronounced "carr."  Mostly everywhere else in the U.S., it's pronounced "kur."  In Scotland, it's pronounced "care."